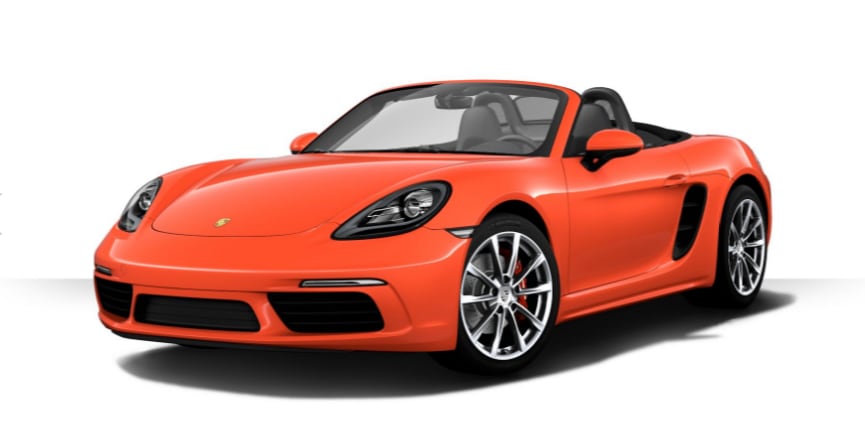 Porsche 718 Boxster Inventory.
Explore the 2018 Porsche 718 Boxster for Sale Near Savannah, GA
Feel at home on the racetrack or the streets of Bluffton or Beaufort in the sophisticated 2018 Porsche 718 Boxster from Porsche of Hilton Head! The stunning performance car offers an ideal balance of style and power for your Hilton Head excursions. We invite you to visit our Hardeeville Porsche dealership soon to test drive the Porsche 718 Boxster and see how this dynamic model can take your commute from pure utility to a joy ride.
2018 Porsche 718 Boxster Performance Highlights
Cultivate a sense of adventure during your evening commute in the new Porsche 718 Boxster. The powerful Porsche 718 Boxster comes standardly-equipped with a 300 horsepower, 2.0-liter 4-cylinder turbocharged boxer engine capable of producing 280 pound-feet of torque. For drivers that want the ultimate driving experience, the new 718 Boxster S model features a 350 horsepower, 2.5-liter turbocharged boxer engine capable of generating 309 pound-feet of torque. Both Boxster trim models comes equipped with a smooth 6-speed manual transmission that delivers quick shift times for a more thrilling driving experience. The optional Sport Chrono Package offers additional optimization for your commute with a SPORT and SPORT PLUS mode. No matter which 718 Boxster model you choose, you are sure to turn heads while you demonstrate your power on the streets of Savannah and beyond.
Safety Performance of the Porsche Boxster
The 2018 Porsche Boxster models come equipped with a variety of safety performance features to elevate your safety standards on the streets of Savannah and beyond. A dual roll-over protection element comes with the open-top 718 Boxster models, and offers remarkable safety due to its high-strength steel design. In the event of a side impact or frontal collision, the new 718 models also feature advanced airbag technology to lessen the impact to passengers. Driver and passenger knee airbags as well as full-size airbags deploy in two stages based on the collision and its severity. Each new Porsche 718 Boxster also comes with the Porsche Side Impact Protection System (POSIP) that includes a generous variety of airbags in the door panels and the side bolster of each seat.
New Porsche 718 Boxster Interior and Exterior Design
The new 718 Boxster models boast remarkable style during your Hilton Head and Beaufort commute. The captivating exterior of the Porsche car features sweeping lines and contours that not only look beautiful but also help to direct headwind into the side air intakes to improve performance. Bi-Xenon main headlights and four-point LED lights provide you with enhanced visibility, no matter where your thrills take you. The premium styling of the exterior comes sweeping into the cabin, with the interior of each new 718 Boxster model boasting a performance-inspired design. A new and updated Porsche Communication Management (PCM) system features a 7-inch multi-touchscreen display that comes with a glass surface as a touch of modern luxury. You can personalize the interior of your 2018 Boxster model to suit your preferences and personality in a variety of colors and materials. Stop by Porsche of Hilton Head today to discover additional standard and available design features in the 718 Boxster.
Request Your 718 Boxster Test Drive Appointment at Porsche of Hilton Head
The new Porsche Boxster models provide you with a contemporary setting to enjoy your daily travels throughout the Bluffton, Beaufort, Hardeeville, and Savannah areas. Whether you crave robust performance or eye-catching style, a new Boxster serves as an excellent companion for your morning commute. Contact our Porsche sales team soon to discuss 718 Boxster trim models and available features to upgrade your commute. We look forward to sharing our enthusiasm for new Porsche cars with you at Porsche of Hilton Head!
2018 Porsche 718 Boxster Trim Breakdown
There are two amazing trims for the one-of-a-kind Porsche 718 Boxster. The legendary, two-seat convertible is a rear-wheel drive vehicle equipped with a soft-top convertible roof. Each trim option is amazing, and drivers in the Hilton Head and Savannah area won't be disappointed with either.
In addition to the two trims, there are a number of special packages and add-on features that can be ordered for the 2018 Porsche 718 Boxster. Here, we break them down for you.
2018 Porsche 718 Boxster Standard Features

The two trim options for the 2018 Porsche 718 Boxster convertible are the Base trim and the S trim. Each comes with an identical list of tech and safety features, including:
Power-folding soft top
Xenon headlights
Parking sensors on the front and rear
Rearview camera
Power-adjustable and heated side mirrors
Automatic climate control
Touchscreen infotainment display
Six-speaker sound system with satellite radio
Two USB ports
The 2018 Porsche 718 Boxster Base Trim

The 2018 Porsche 718 Boxster Base trim is equipped with a turbocharged 2.0-liter horizontally opposed four-cylinder engine. It offers a 300 horsepower rating with 280 pound-feet of torque. It's also comes with 18-inch wheels, unique black brake calipers and a single central tailpipe.
The 2018 Porsche 718 Boxster S Trim

The 2018 Porsche 718 Boxster S trim comes with a turbocharged 2.5-liter four-cylinder engine with 350 horsepower and 309 pound-feet of torque. It has larger, 19-inch wheels, as well as two centrally mounted exhaust tips and red brake calipers.
Special Options Available

Drivers shopping for the 2018 Porsche 718 Boxster have a number of add-on options available to them, both inside the car and under the hood. Mechanically, you can add such things as an adaptive suspension system, a seven-speed, dual-clutch automatic transmission, and a louder exhaust system.
Inside the car, drivers can request a number of creature comforts, including ventilated and heated seats, keyless entry and ignition, and an upgraded Bose audio system.